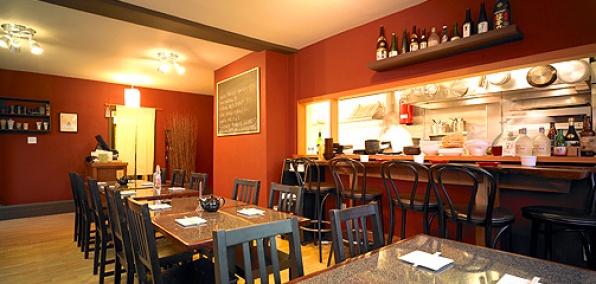 Ramen has long been your go-to bowl on cold, wet days.

And while you're well aware of its many steaming charms, we're here today to make sure you're well-acquainted with its powers in the hangover remedy department...

Which is why we're happy to tell you about ramen-equipped Izakaya Sozai, your new Japanese tapas bar in the Inner Sunset, ready to ply you with both hangover-inducing and hangover-preventing fare.

Owned by a former Blowfish Sushi chef and his wife, Izakaya Sozai is a mom-and-pop you'd frequent for traditional Japanese pub food, ample beer, sake and shochu—all capped off with some of the best ramen in the city.

First, you'll want to head in after work (as the Japanese do) and start with beers by the pitcher. Fill up with pork belly and Korean short ribs, then move on to bottles of sake. Should you find yourself with leftover drink, they'll hold your unfinished bottle with your name on it for your next visit—like an informal liquor locker system.

At this point in the evening, most Japanese would seek out a ramen house to start sobering up, but the good couple of Sozai brings the noodles to you. The broth of their house tonkotsu ramen takes two days to make, then they add pork and a marinated soft-boiled egg.

Since they make only enough for roughly 30 orders a night, place your order when you arrive, and they'll save you a bowl for later.

Call it noodle insurance.