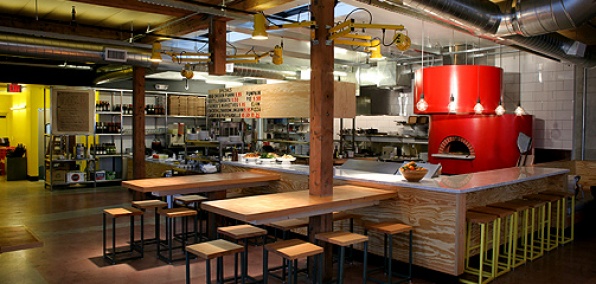 No matter what obstacles arise, no matter how profoundly you may change, you will always remain loyal to pizza.

Especially when it evolves in a pretty remarkable way—welcome to Culver City's new Pitfire Artisan Pizza, now open.

Pitfire is, quite simply, one big indoor-outdoor shrine to pies. Between the patio and the dining room, a large glass wall retracts entirely, so the garden growing olives, tomatoes and herbs blends right in with the open, industrial room beyond.

Like the other Pitfires in North Hollywood, West LA and Downtown, this one has unusual market-driven pizzas like Organic Pumpkin and Greens, Egg and Ham (braised chard, farm egg, smoked prosciutto). But this is the first one to really offer a vibe that's similar to Intelligentsia (plus pizza, beer and execs from the nearby Sony lot... We think this has something to do with the fact that the same person who designed Intelligentsia designed this).

If you and your pizza are inspired to bring in a third party to spice things up, you could try the North Beach Clam and Bacon Linguini. They've also got panini, meatballs, cookies and ice cream with house-made caramel sauce.

Think of it as a threesome for your stomach.