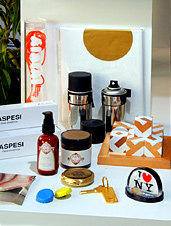 The New York souvenir shop is a storied institution of plastic bling and patriotic kitsch.
One that you've rightfully and aggressively avoided at all costs.
But today, we bring news of some recent developments in the souvenir game. And you're going to want to see this...
Allow us to direct your attention 20 blocks south of the tourist precincts of Times Square, to
No. 8a,
a traveler's boutique filled to the brim with whimsical, thought-provoking trinkets, opening Saturday evening at the Ace Hotel.
Think of No. 8a as the sort of shop that fits perfectly in the den of vintage Americana that is the Ace Hotel—a store that could have easily been curated by a corduroy-bedecked Wes Anderson character.
While the store caters to hotel guests (they stock guidebooks, neckties, umbrellas and snacks), it's also chock-full of curious magazines, strange books, quirky objets d'art ("I Heart NY" snow globes filled with tiny trash bags, NYC coins once used to view peep shows, massive NY street cart pretzels made entirely of colored sugar) and some funky/preppy clothes from
Matt Singer
.
The end result is a shop full of nothing you really need, but everything you kind of want—mementos and vittles for people who don't care about mementos and vittles. There's even a line of pristine white designer sex toys, in case you're heading upstairs at the Ace and want to make things interesting.
And here we thought a dinner date at
The Breslin
couldn't get any more romantic.