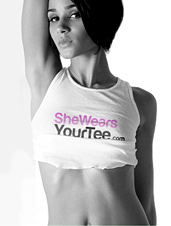 It's the classic New York story.
Midwestern girl comes to the big city with a suitcase and a dream. She falls on hard times. And starts wearing other people's shirts for money on the Internet.
We'd like you to meet Tanaya...
Introducing
She Wears Your Tee,
a model who will wear whatever T-shirt you tell her to, online now.
In light of Fashion Week's arrival, we thought we'd bring you a chance to get a little skin in the game—we're not talking about an operation where you get high-priced models strutting down runways to sell your latest line of lingerie (although we can talk about that too when you're ready). We're talking about something a little more casual, friendly...and completely ludicrous (in a good way).
It works like this: you send Tan (that's what we call her) a small T-shirt with your logo. Then she calls you up to discuss how you want her to pose for the photo (always go with "Blue Steel" meets "surprised award show winner") before posting the photo—along with some of Tan's thoughts about your company—on her site, where you get top billing for a day.
If you're not selling anything, we suppose that's fine too—maybe you just want to get something off your chest (and onto hers), advertise your private archery lessons or send a secret spy message through the unlikeliest of channels.
No one will suspect tiny T-shirts.