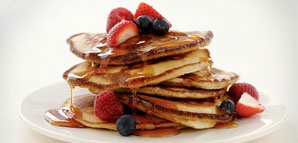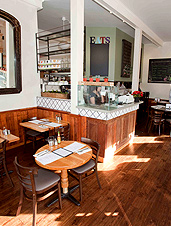 We all know that breakfast is the most important meal of the day.
Which is why, in a time when everyone is trying to be everything, we were glad to hear of a restaurant completely devoted to this singular meal.
Hence
Eats,
your latest dime-size, all-American breakfast joint, just resurrected in the Inner Richmond.
Even though the new Eats is brought to you by the same owners of Burma Superstar and B Star Bar, you'd never know when you step into this bright, farmhouse-styled eatery. Think of Eats as your permanent breakfast nook spot in Mom's kitchen. There's even a marble-topped chef's counter in back, if you want to watch your pancakes being tossed (they taste better that way).
All the traditional standbys are here—Belgian buttermilk waffles, farmer's market scramble, chicken and waffles, two eggs with bacon and home fries. But you can also partake of daily specials posted by the chalkboard, which lists the day's local ingredients (think: potatoes, chard, pears). So if you're craving something that's not on the menu, offer up an order from the ingredients.
To start, Eats is serving breakfast from the crack of dawn (read: 8am) to 3pm, but there are rumors it'll stay open for dinner.
Breakfast for dinner. Mom would be proud.