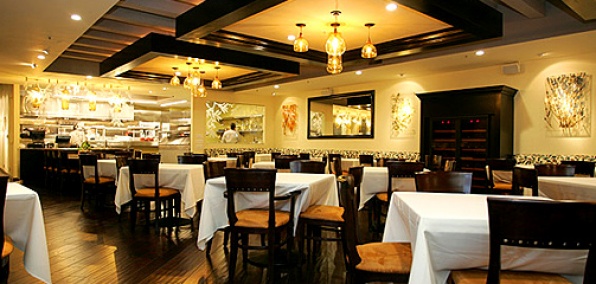 You're well-versed on the five elements—earth, air, fire, water and lobster.
So you'll be glad to know that there's a gleaming new restaurant that's also done its homework.
Elements Kitchen
is now open in Pasadena.
The
menu
here is organized not by course, but by "element," by which they mean notable ingredient to be sampled in several different forms. So if lobster is sounding like a fundamental building block of your existence today—must be Tuesday—you'll order the
Grilled Lobster and Mixed Beet Salad
,
Lobster Thermidor Potpie
and
Monkfish Curry
with lobster steamed rice.
But you might feel like mixing in some beef or duck, so you've got options like
Braised Wagyu Beef Cheeks
or a
PF&J
(pistachio butter, foie gras torchon and jellied sauternes...just like Mom used to make). And unlike the rigid periodic table, these elements will change with the seasons.
If it all feels a little familiar (in a good way), that's because this is the same Elements that caters weddings and has a cafe in Pasadena.
But this new courtyard restaurant is more of a refined white-linen affair, matching new American food with classic French technique, with a vast open kitchen. And a full bar.
A full bar is the sixth element.