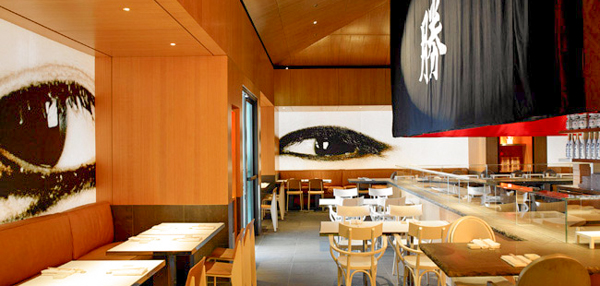 You're a sucker for a good rejuvenation story. The Clippers going from last to first. The fallen C-lister turned indie darling. You making it to work after last night.

Opening Thursday under the watchful eyes of sushi genius Katsuya Uechi and design guru Philippe Starck—and now accepting reservations—the Hollywood incarnation of Katsuya aims to bring some class and glamour back to one of Hollywood's most rapidly changing intersections.

Upon entering off Vine (despite the Hollywood Boulevard address), you'll be greeted by a lobby bar filled with rows of Lucite columns housing white-lacquered sushi knives that float within (kind of like fruit suspended in Jello cubes).

To feel out the scene, use one of the columns to rest your elbow and your drink (one specialty concoction uses horseradish-infused vodka, another uses pea shoots). Or head straight to the main dining room, where the huge central sushi bar is manned by more than a dozen chefs.

The real draw of Katsuya, however, is on the lounge side, where you can secure yourself a curtained enclave and prepare to be attended to by a private server whose sole purpose is to be at your culinary beck and call.

No matter where you sit, you'll select from a menu that retains the expected signature items (Sliced Kiwi Scallop with Yuzu Vinaigrette), but also explores hot items and European influences (Salt Encrusted Baked Sea Bass with Black Truffles) more than other locations.

Hollywood always gets the exclusive.