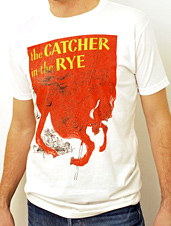 It's a tumultuous moment for the publishing industry.
For every iPad gained, there is a Salinger lost. (RIP.)
But the revolution must live on—and now is your chance to do your part for books, via your next T-shirt. Introducing
Out of Print,
now available.
Finally bringing literary masterpieces to the unprecedented medium they've always deserved—your chest—Out of Print hunts down rare, old-school covers of classic books and splashes them onto a worn-in shirt that's beat up to look just as old. (And for every purchase, a real book goes to the charity Books for Africa.)
Think of this as a way to flaunt your knowledge of Kerouac, Vonnegut and, yes, Salinger...all before you say a word to that beauty at the next table at Urth. So you look cultured even if you're reading the script for
Transformers
3
.
Right now there are 16 book-shirts available, and they're all pretty good-looking. We like the
Lolita
and the
Atlas Shrugged,
but our favorite is probably the
Hound of the Baskervilles
—not because we're particularly fond of Doyle or Holmes, but simply because of its eye-catching turquoise hue, which would look sharp under a charcoal hoodie.
You know what they say: judge a shirt by its color.