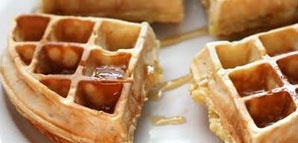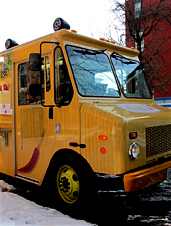 Until now, the food-truck formula has been pretty simple.
Take food. Add truck.
And you were fine with that. Really, no complaints. But maybe you didn't know that jacking a DJ rig into a food truck was even remotely possible. And street food may never be the same...
Presenting
Sâuçá,
officially roaming the city streets starting this Wednesday to give your lunch break a satellite-linked dose of international street food (along with an overdose of accent marks).
Consider this the mobile version of your favorite Greek shipping heir's tricked-out living room. Standing there under the heat lamp, it's easy to get distracted by all the high-tech toys: world music blaring from four speakers, Brazilian soccer on the flat-screen and an international phone where you can catch up with that Macedonian exchange student you...studied with in college.
But remember that there happens to be food here as well: the menu feels like the by-product of a sandwich-themed international road trip—
Pork Banh Mi
,
Beef Shawarma
,
Buffalo Chicken
(from the subcontinent known as Western New York) and 22 sauces (like Indian mint chili and lobster bisque) to suit your microflavoring needs.
And in coming weeks, you'll want to return for late-night, when the truck sets up camp near downtown clubs to overload your senses further with DJs and its built-in karaoke.
Not that you're opposed to a little lunchtime karaoke...