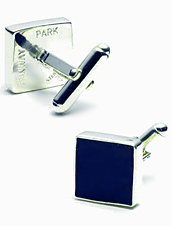 Fenway.
It's your church, your cathedral, the place where dreams are made (or, more often than not, squashed).
You've always wanted a little piece of the Park for your own, but making off with a scoreboard number from the Green Monster (or kidnapping Papelbon) has never really been an option. You need to think smaller. Cuff link small...
Introducing
Fenway Cuff Links,
actual pieces of reclaimed wood from Fenway now ensconced in sterling silver, and the best way to wear your über-fandom at the office (considering that backwards Sox hats are generally frowned upon).
The next time you stroll into a presentation to the board, or approach your boss's door with a stirring argument as to why you deserve a raise, these could be the bit of sacred ground you wear for good luck. The salvaged wood comes directly from Fenway's blue seats, now preserved and permanently set in silver for your stylish-wrist-area needs.
They also have similar sets from 11 other ballparks, including the original Yankee Stadium.
For burning in effigy, of course.