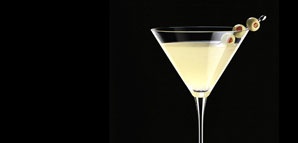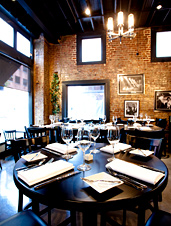 As a new decade eases into its second month, certain needs remain constant.
Namely, your continuing quest for innovative meat and booze. So allow us to point you toward
Dish Bistro & Bar
, a forward-thinking neighborhood joint opening one week from today.
This is the kind of casual brick spot just a block from the Colorado Boulevard bustle—a loft at street level—that's good for a bright and sunny lunch, or a pre-
movie
dinner with your favorite sharer of armrests.
Grab a stool at the
bar
if you just want a
Diplomatic Manhattan
(a rum-based version with rehydrated cherries) or a
Navarro Sunset
(a citrus-y vodka concoction on a base of Pinot Noir grape juice—yes, Pinot Noir grape juice).
But before too long, you'll probably find yourself wandering over to a seat by the windows, and summoning a sea of
small to less-small Mediterranean plates
from a Patina Group vet who's big on the slow-food movement. Think
Asparagus "Fries
,
"
Seared Day Boat Scallops
with
House Made Veal Pancetta
and
Mini Boo Ya
.
In this case, the
boo ya
is short for
bouillabaisse.
But then again, isn't it always.
Note:
<a target="_blank" href="http://www.dishbistroandbar.com">Dish Bistro & Bar</a>, opens Feb 5 (lunch starts Feb 9), 626-795-5546, see the <a target="_blank" href= "http://www.urbandaddy.com/uploads/assets/file/pdfs//a3e337a49fbdf5a79990ca89fe563445.pdf">menu</a>