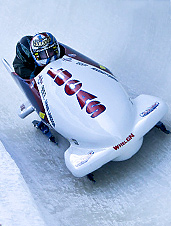 You've been preparing for this moment.
You've done squats. You've studied Bob Costas' hair. You've scheduled repeat viewings of
Cool Runnings
.
Yes, it's time to do some Olympic-style sledding.
Welcome to the
Bobsled Track at Utah Olympic Park,
a gold medal-worthy sledding track, open now for gifted and talented Olympiad bobsledders...and you.
That's right—the same track used at the 2002 Winter Olympics is open for business. So you and three friends can bobsled down just like the gold-winning German quartet of Lange, Kühn, Kuske and Embach did eight years ago. (They're like the Beatles of bobsledding...except very, very German.) You'll be treated to a roughly 40-story drop at about five times the force of gravity, all in less than a minute. Bring a helmet (or, you know, use the one provided).
And because you've long felt like it's time to go solo, they're now letting you go down headfirst on the sled, in the style of the Olympiad's skeleton race. The first run's scheduled for mid-February, but you can go to a clinic—which includes three hours of track time and coaching—starting this Saturday. (When you're jetting headfirst down something nicknamed "The Comet," it helps to know what you're doing.)
See you in Vancouver.