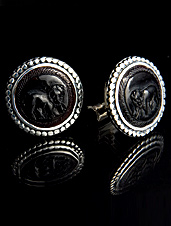 We won't take too much of your time today. It's Monday, and we know you're busy.
Yet there are some things too important to put off—like outfitting your wrists. Lately, they've been looking woefully unadorned.
So that's why we bring you word of
Have Links Will Travel,
a new mobile cuff links studio, now delivering to wherever you are.
Consider this a house call for your French cuffs. Ring up local jeweler Tracey Mayer, and she'll stop whatever she's doing (making cuff links, we'd guess), pack up her briefcase—heavy with about 75 samples of her wares—and rush to your corner office, penthouse suite or Senate campaign headquarters to show you the goods. (Or, at least, that's what she really wants to do—you might need to make an appointment.)
Peruse her samples, then begin trying them on. Start with the silver viper heads (yes, those
are
bejeweled eyes), or maybe the vintage bone Mahjongg tiles, or the little tiny lemurs—you know, the basics. After you've settled on a favorite, they'll be shipped along with a paper that tells the backstory of the piece—where the stones came from, what the animal represents and so on.
Consider them a conversation starter for your conversation starters.