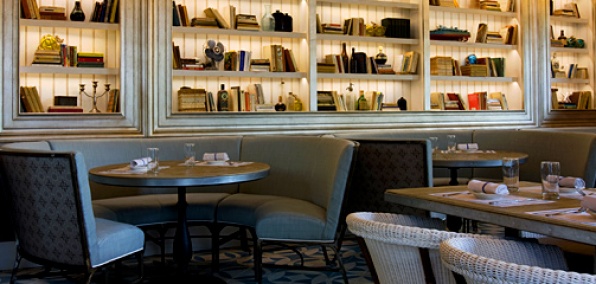 When cutting through the chaos of Hollywood Boulevard, you can't help but recall the beauty of the French Riviera.
You won't think we're insane once you step inside
Delphine
—the new W Hollywood's French eatery is taking reservations starting Monday for its Thursday debut.
If you enter from the street at sundown, take a seat at the Carrera marble bar for oysters and a Lindemans Framboise (it's raspberry beer) under a giant black-and-white photo of Cannes. Further back is the more formal dining room, where you'll summon carafes of wine with
menu classics
like
Steak au Poivre
and
Moules Frites au Pernod
under barrel ceilings, books on Louis XIV and a big-ass fan. No, really, the name's right on it—Big-Ass Fan.
But this is a brasserie-style, open-all-day kind of place, so you can drop in as early as 6:30am for pastries and eggs Benedict in the morning or a
Warm Chicken BLT
at lunch. For weekend brunch: bubbly and
Steak and Eggs
.
Hang out long enough and you'll want to stroll out the side door to finish the night at the outdoor bar Station Hollywood, which, like Delphine, is brought to you by Innovative Dining Group (Sushi Roku,
BOA
). It's situated directly behind the Hollywood and Vine metro station (hence the name) and boasts a 600-square-foot retractable movie screen.
Yeah. Turns out you're still in Hollywood.