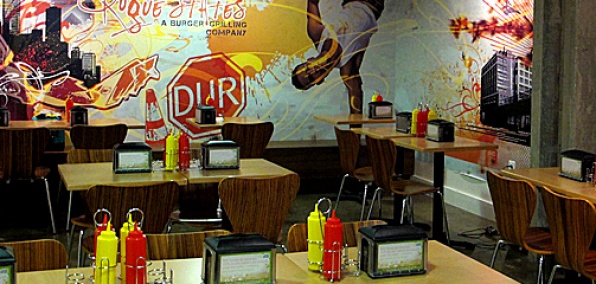 When it comes to late-night burger joints, your requirements are few but important: a bit of a scene, just the right amount of grease—and more beer than clown mascots.

And if, and only if, all of those are taken care of, you'll allow a little haute cuisine to creep into your patties.

Introducing Black and Orange, Dupont's new open-till-5am gourmet burger shrine, scheduled to open this Saturday to give you an après-last call destination. Below, your first look inside...

This is a burger lover's burger joint, with precious few distractions. Everything here is built for optimal burger consumption, from the stained concrete floors to the reclaimed barn wood on the walls (you wouldn't have burgers next to any other kind of wall) to the large bin of mesquite grilling wood, front and center.

But you're here for burgers and only burgers, cooked up by Raynold Mendizabal of Lima fame. If you're feeling traditional, opt for the classic patty, blended with sea salt and black pepper. But if you're in the mood for something more creative—international, even—then opt for the No Burger, No Cry (jerk spices, red onion and habañeros) or the Pardon My French (black truffle oil, thyme and more attitude). On the side: fries and only fries (oh, and sweet potato fries).

If you can manage to arrive before last call, there's extra incentive: tap beers from Blue & Gray Brewing Company in Fredericksburg, like the Falmouth APA and the Stonewall Stout.

An even better side than fries...