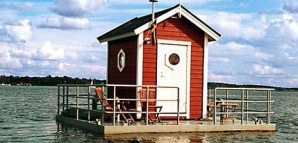 When you're looking to put some distance between you and the rest of the world, there's nowhere like the North—and a few meters of water over your head.

Part hotel, part art installation, the Utter Inn is like an aquarium inverted—ten feet under the surface, you're the one in the tank. The bright red, two-story floating Swedish cottage (whose second story just happens to be underwater) bobs in the middle of Lake Mälaren, just west of Stockholm. It's the second such creation of hotelier-slash-artistic-madman Mikael Genberg, whose penchant for putting little red houses in unusual places has resulted in the oak-tree-mounted hotel Woodpecker and, tentatively slated for 2011, a similar project on the moon.

Down on Earth, however, this single-"suite" cottage is your chance to sleep with the fishes—quite literally. You'll be ferried out the kilometer from shore and left to enjoy the sunset on your floating terrace; a solar-paneled roof powers the necessities (heat, bathroom, small kitchen) for your night in the water, and there's a kayak at your disposal, should you feel the need to explore your surroundings. Spring for the Deluxe service and you'll be delivered a full Swedish dinner before you head below to your private bedroom—private, that is, except for the fish passing by the panoramic windows.

Don't worry—they're not watching.