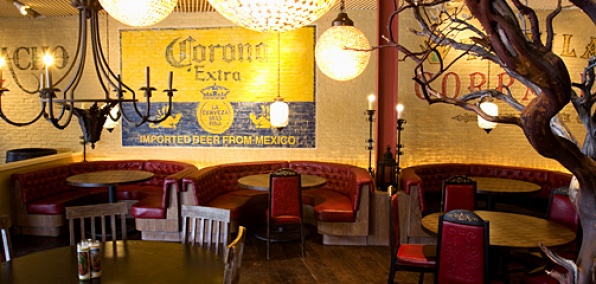 Lately you've been questioning what's really important in life. And answering: happy hour.

Preferably six hours of happy per day. That's just what you'll find at Borracho Cantina, officially opening Friday on the Sunset Strip.

In the breezy indoor-outdoor space where Tony's Steakhouse once resided, you'll now find Tony Riviera's casual, sprawling shrine to endless margaritas, fajitas, tamales and Roast Duck Tacos With Pecan Mole. Maybe some chips and Pomegranate Guacamole With Queso Fresco. And another round, please. (Happy hour's from 3-6pm. And from 10pm-1am.)

The booths against the back wall are best if you require a proper meal. But otherwise you'll want to be closer to the completely retractable wall at the other side, to catch some of that Sunset Strip breeze, a special swirl of glittering sunlight (uh—usually), towering heels and convertible exhaust. Also: 10 new screens on the patio so you can catch the game.

If that puts you in the mood for sport, head into the bar—once all the tequila's in place, you'll get to work downing a shot of every label in stock. When victorious (at a later visit, allegedly), you'll be inducted into a special society whose rewards include private tastings, a gratis bottle of the good stuff and a shot glass with your name on it.

And chances are you'll finish right around happy hour...