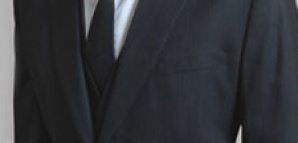 Anyone can blow cash on an expensive three-piece suit with a designer label. (Yawn.) In matters of style—as in matters of most anything, come to think of it—you tend to favor the unexpected. Whether you want trendy, classic, out-there or some fashionable-yet-manly hybrid thereof, you'll find sartorial solace in our list of fall's five most notable offerings.
THECAST:
Dior Homme on Prozac
Fitted vests and sleek waistcoats are at the forefront of THECAST's first foray into autumn. For an especially Harley-ready touch, you might even consider the surprisingly feasible leather pants. Really.

411:
Sold at Inago, 8364 W. 3rd St (between Sweetzer and La Cienega), West Hollywood, 323-653-1888
3.1 Phillip Lim: Ralph Lauren Minus the Horse
Your female shopping companion will confirm that Lim long ago fit her idea of contemporary clothing. When sporting his first fall collection for men, you can confirm right back that he delivers the expected clean lines and impeccable fit.

411:
Sold at Barneys New York, 9570 Wilshire Blvd (between Camden and Rodeo), Beverly Hills, 310-276-4400
Tim Hamilton: Band of Outsiders, for Insiders
Hamilton has unveiled fall offerings that feature bright colors mixed with muted tones, as well as thoughtfully tailored pants paired with stylishly rumpled tops. As you can attest, opposites do attract (sometimes).
411:
Sold at Douglas Fir, 8311 W. 3rd St (between Sweetzer and Flores), West Hollywood, 323-651-5445
Endovanera: rag & bone Gone After-Hours
This LA-based line remains under the radar, but its vintage military-inspired coats, slim-fit pants and West Coast rocker aesthetic provides a nightlife-ready twist to your alter-ego's pre-sundown suit and tie.
411:
Sold at Opening Ceremony, 451 N. La Cienega Blvd (between Melrose and Beverly), West Hollywood, 310-652-1120
Robert Geller: J. Lindeberg in Love
The former Cloak designer's first solo collection leans heavily on Parisian-inspired looks. His crisp, youthful pieces will make you look straight from the Left Bank, even when you're just dashing in to make a deposit at the bank.
411:
Sold at Scout, 7920 W. 3rd St (between Fairfax and Crescent Heights), West Hollywood, 323-658-8684