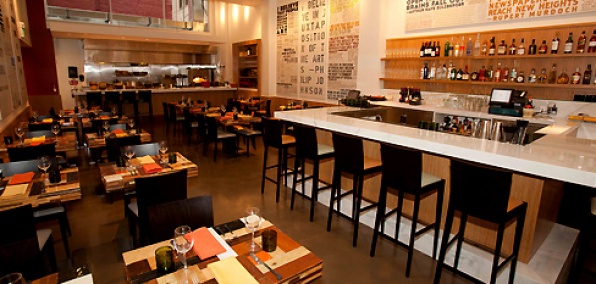 People believe a lot of things.

So when someone decides to gather quotes from Steve Martin to the Dalai Lama on what they believe about life, love and hookers, and throws them up on 15-foot-high walls over wine and baked pastas, we're there.

Which would happen to be Credo (Latin for—you got it—"I believe"), a new Italian trattoria, opening this Monday across from the old Stock Exchange.

The clean, modern space is the perfect backdrop for Credo's two main attractions—the food, in generous portions, courtesy of Milanese chef Mario Maggi, and the words, of similar quantity, on the walls. And while we're sure you've never been at a loss for bons mots, the conveniently located nuggets of wisdom might come in handy.

"I believe madness is the biggest thing in the human race, and the most constant" is a great first-date conversation starter, and "I believe that sex is one of the most beautiful, natural, wholesome things that money can buy" (courtesy of Mr. Martin) might come in handy on several occasions that we can think of. 

Thin-crust pizzas and Barolo-soaked filet mignons will keep you sated as you read. They will eventually swap out the quotes, but we hope our favorite pearl from George W. stays: "I know what I believe. I will continue to articulate what I believe and what I believe. I believe what I believe is right."

We'll drink to that.