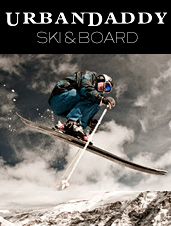 We are here today to speak out against hibernation.
To embrace a little frost in the air.
To go forth into the mountains in search of some fresh powder, a few hot toddies and the welcoming embrace of the Swedish alpine team.
Today we introduce—for your ski, board, dogsled, snowshoe, toboggan, hot-tub and giant-dogs-with-barrels-under-their-necks pleasure—
UrbanDaddy Ski & Board,
a winter edition aimed at bringing you the best of what's new in your favorite mountain haunts, launching this week.
Think of UrbanDaddy Ski & Board just like your other favorite UrbanDaddy editions—meaning we'll be tipping you off to the best of the best in food, activities, nightlife and entertainment—only with an eye toward après-ski haunts, ski hills, marshmallow roasts and snowball fights.
Twice a month, you'll receive an update with the newest secret igloo parties in Aspen, alpine polo matches in Gstaad and gondola socials in Stowe. We'll be covering all your favorite snowy getaways, from the Northeast to the Rockies to the Swiss Alps.
And to commemorate the launch, when you sign up you'll automatically be entered for a chance to
win five nights in a Jackson Hole Resort
Lodging condo for you and your favorite snow bunny, along with all the lift tickets and snow gear you'll need to qualify for Vancouver.
Wear something warm.