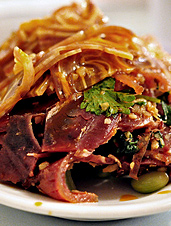 Lately, you might be feeling a little bored with the restaurant scene. In need of some culinary adventure. In need of...some brains, possibly folded into some fresh ravioli.
Step in, if you dare, to
Offal Good,
an intense new celebration of uncommon foods at the acclaimed restaurant and wine bar (and shop, and library) known as
Palate
.
Now expanding your limits at the back wine bar every Wednesday, Offal Good is a decadent three-course affair with a rotating menu the likes of which you rarely see—
offal
is foodie talk for innards and extremities, taken here to unprecedented new places.
This Wednesday's inaugural event includes
Split Pea Soup With Szechwan Marinated Pig Ears,
and on future nights you might find
Calf-Brain Ravioli,
Grilled Liver With Pancetta and Stone-Ground Grits,
and various other forward-thinking uses of bone marrow, liver, kidneys, feet, hearts and cockscombs (think: rooster's Mohawk).
You wouldn't trust just anyone with this sort of endeavor, but it turns out your nights of potted pork in mason jars and the occasional bite of sweetbreads (which aren't actually breads) have all led up to this. And you're ready.
If you have any trouble, there's plenty of wine to pull you through...