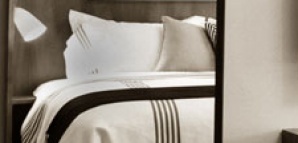 You're always looking for innovative ways to eat a meal. We've got one for you:
Book a suite at
6 Columbus
, the just-opened-yesterday hotel in Columbus Circle from the people who brought you 60 Thompson. Doesn't matter too much which of its 88 rooms you reserve: They've all got a mod 1960s design aesthetic, flat-panel plasma-screen TV, preloaded iPod and images from one of the world's most respected fashion photogs, Guy Bourdin.
Pick up your room's cordless phone and call down to the hotel restaurant, the
Blue Ribbon Sushi Bar and Grill
, which becomes the sixth Blue Ribbon restaurant to hit the city and whose menu pulls from the best of the other five (part of Blue Ribbon's Every Manhattan Block Deserves a Blue Ribbon program).
Order a dozen oysters fresh from the raw bar or a signature steak for two, and, starting next week, a 6 Columbus staffer, dressed in a crisp denim-and-skinny-tie uniform designed by
rag & bone
, will ride a pony-skinned elevator to your floor and de-lid your private feast.
With the time you save not going downstairs, participate in other traditional hotel-room activities, like watching one of the films from the in-room movie library, or lounging in the marble bath, or...
Well, you get the idea.