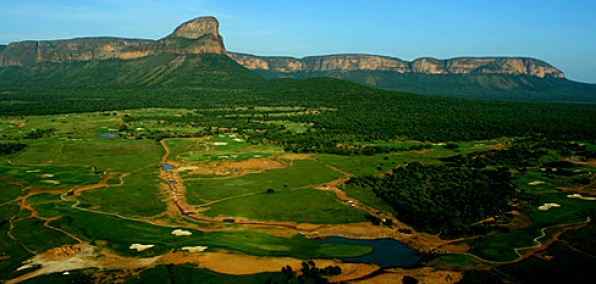 Over the years, golf has conquered some treacherous terrain, from the cliffs of Scotland to the whirling windmills of Putt-Putt—but we may have found the most mind-blowing setting of them all.

Here's a hint: your golf cart is a helicopter.

Presenting the steepest golf hole in the world: The Extreme 19th at Legend Golf & Safari Resort in South Africa, teeing off now from Hanglip Mountain.

Think of it as a piece of Pebble Beach dropped onto the African plains and then perched on the edge of a skyscraper-sized cliff. To get to the tee box, you'll take a six-seat chopper to a peak roughly the height of the Empire State Building. That puts the ground-level green more than 1,200 feet away and adds a much needed dose of danger to your game—if you slice, you may have to tussle with a rhino to get your ball back (more on that later).

When you get down to the green (again, the chopper), you'll notice it looks familiar: it's a map of Africa, outfitted with the exact peaks and valleys, which raises the possibility of banking a putt off Kilimanjaro—or leaving a divot where the Sphinx used to be.

After you've finished off the course, you'll have a whole wildlife preserve at your disposal, not to mention a luxury resort complete with lakeside cottages, villas on stilts, safari jaunts and a fire-walking workshop that will take you tiptoeing over real live 200-degree coals.

It's still less painful than hitting a sand trap.