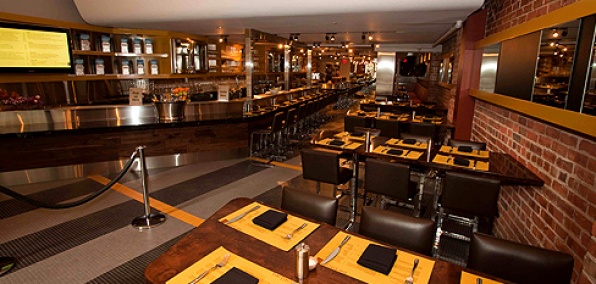 The first week back after the holidays is notoriously rough. We venture to say you've just barely made it.

So we wouldn't normally rush to bring up Monday, except we managed to find something worth looking forward to.

Welcome Barbacco Eno Trattoria, the casual trattoria version of Perbacco conveniently located next door to its dapper elder FiDi sibling, opening for lunch the day you may need it most.

Barbacco is your solution for house-cured salumi and meatball cravings midday—and it hits that hard-to-find lunch sweet spot between expense-account Perbacco and the corner deli.

Décor here, oddly enough, is slightly reminiscent of a Maserati showroom, complete with sleek metal columns and exposed brick walls adorned with artwork of polished Italian sports cars. (If that doesn't say "eat here," we're not sure what does.) You can run in and grab takeout, but the red leather banquettes beg for a little lunchtime lounging—and, we suspect, provide better digs than your desk for porchetta sandwiches.

They're focusing on lunch to start, but the wine bar and dinner service will be in full force this month. So after a long day, you can come back around and unwind at the black marble bar with a pour from their constantly rotating group of 60 wines by the glass or quartino (a glass and a half).

We recommend you take it one quartino at a time.