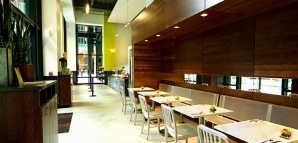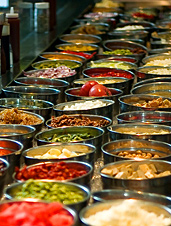 Bourbon, cigars, that tattooed wild one from last night...usually the good things in life aren't exactly good for you.
But today we bring you a welcome exception to the rule: a resolution-friendly lunch spot that won't stink up your suit or steal your car. Behold the cleansing power of
Mixt Greens
, opening Wednesday in Downtown.
This is the kind of place you keep hearing about, where humans and androids will one day commingle over heaping bowls of organic, locally sourced vegetation, speaking only of peace and sustainability. In the meantime,
Sirloin Sandwiches With Black Truffle Aioli
and salad options like the
Porky
—with spice-rubbed pork tenderloin, bacon, apples and squash—make this all go down easy.
It's the first of three planned outposts in our city (this all started, unsurprisingly, in San Francisco), and they're all big on compostable containers, sustainable spaces and tables made from detergent bottles. And the next two (in Malibu and Miracle Mile) will even have edible walls.
They're gardens. On the walls. So you won't be getting Sheetrock on your salad—just some fresh herbs.
Floors and ceilings: still inedible.