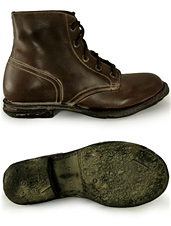 We just got the weekend forecast: cloudy, snowy, with a 100-percent chance of puddles.
Which means it's time to take care of two of your most important possessions. No, not your matching his-and-hers scotch glasses. We mean your feet.
To this end, we present
Bed Stü
, a line of rugged, badass boots that hails from a borough with a well-documented history of subtly stylish toughness: Brooklyn.
First off, you should know that in this day and age of mechanization and automation, these things are expertly crafted by hand. Which means that when you see details like the nails driven into the soles—a traditional detail, and who are we to question traditional details?—you can feel confident in the knowledge that somewhere, a cobbler had to force one of those things into the sole by hand.
Second, you should consider these your new ammunition for the knock-down, drag-out battle that is a New York winter. So as you trudge through puddles on your way from your cab to your backup cab, you'll be able to stomp with impunity—as an impermeable barrier of tightly laced distressed leather (double-layered for backup) is shielding you from the elements. In other words, they're what Clint Eastwood would wear if he gave up on the West and moved to Manhattan.
Actually, we could see him surviving slush in his bare feet, but we digress.