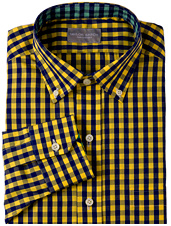 It's six days into the new year.
And we suspect your resolutions are already hanging on by a thread.
But there's hope. At least for your shirts…
Enter
Taylor Stitch
, a new website that's both natty custom tailor and highly curated menswear outfitter.
The site is easy to navigate and makes shopping easy on the eyes. But since the three-man team behind it is based in Cow Hollow, we suggest you take advantage of their house calls for fellow San Franciscans. Set up a time for crafting custom shirts, and they'll drop by your home or office with measuring tapes, stylebooks and about 150 fabric swatches (and the good humor to get you through all 150).
You can design your creation down to the triple-stacked button (that extra stack makes all the difference) or contrast stitch. Then everything is sent to one of the oldest shirt-making companies in the country (the same one used by Saks Fifth Avenue), and when your shirt is ready, they'll hand-deliver it right to you.
Since man cannot survive on shirts alone, check out the rest of the site for a growing list of small-batch goods like Dope & Drakkar jeans, leather bags from Moore & Giles and ties from Minnesota-based Pierrepont Hicks. 
They're also planning to go brick-and-mortar.
Which raises a timeless question: your place or theirs?