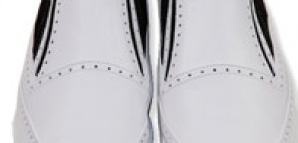 Sartorially speaking, there are two things every man wants: to not clothe himself in the same polo as the guy two offices down; and, when possible, to not leave his home to acquire said polo.

Addressing both of these issues with reinvented-country-club panache: Gargyle.com.

Having worked out the kinks in beta mode, Brooklyn-based Gargyle opens its virtual doors this week with tightly curated men's and women's collections from such labels as Rogues Gallery, Common Projects and Karen Walker. With a vibe that says "I like the styles of 1950s country clubs—but, as you can tell by the present-day touches, not the discrimination," Gargyle's online shop includes: Dean 2 white-and-green leather shoes from SWEAR (they're like dressier Stan Smiths), silk-and-cashmere cardigans from Morphine Generation (for your shyly comical Michael Cera look), bullet sunglasses in gun color (so no one takes you and your Michael Cera look too seriously) and leather barrel bags from Fred Perry (for all your barrel-carrying needs).

And just in case you feel like venturing away from the laptop, you can also stop by Gargyle's showroom in DUMBO—to browse the goods, try on or even return clothes.

It'll be just like the old days.