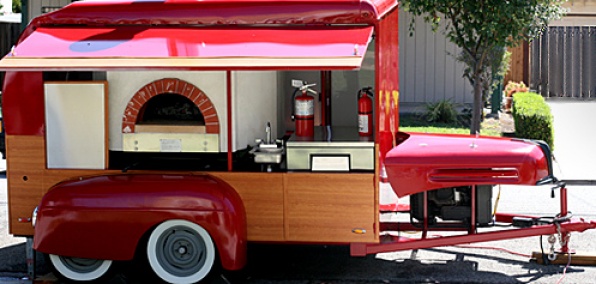 It's a universal truth: pizza is good.

Pizza, however, cooked in a wood-fired oven inside a fire-engine red 1940s Ford Woodie that pulls up to your door, is, shall we say, another level of good.

Introducing Wood Fire Woodie, a catering service now firing up pizzas and other delectable edibles out of the iconic surfmobile.

Though chef/owner Patrick Flanagan's been (ahem) around the block for over a year now (meaning he has some pre-food-truck-fad cred), he's managed to keep a low profile. For you, that means he's got his routine nailed down—just give him a day or two's notice before your gig so he can make the dough and give it time to rest. (Trust us: you don't want unrested dough.)

Then he'll set up his custom-built wood-paneled Woodie, tricked out with a 2,500-pound Mugnaini oven (the Ferrari of pizza ovens), and come ready to dish out some blistering hot pies.

He can serve up slices indoors, but with a roof like this, we suggest hosting your festivities outside so your guests can enjoy the spectacle of their very own oven-on-wheels. There's a variety of thin-crust pies, from traditional Margherita to Hickory-Smoked Bacon with Pineapple.

Flanagan can also roast racks of lamb and grill oysters, and, as a finale, all his desserts are wood-fired (i.e., Grilled Pears with Pear Brandy).

Think of it as pizza delivery 2.0.