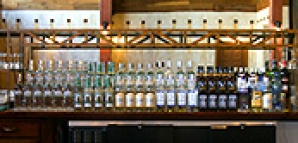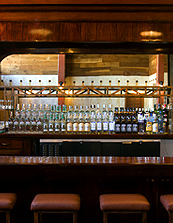 You always try to be a good neighbor. Very considerate.
But every now and then, a wild, boozy blowout is in order—neighbors be damned.
Which is just what
Mercantile's
new next-door neighbor has in mind on New Year's Eve. Introducing
District
, a new spot for fine dining and cocktails that's hosting a sneak-peek preview party to properly introduce itself (and 2010). 
The place looks like 1880s New York, if you'd been around then and hung out drinking in ominous monasteries. You'll step into a cavern of rust-covered concrete, bare bulbs and pressed tin ceilings high above, faux-aged to look like copper. The stairs in the back lead up to an intimate brick hideaway for private rituals, or meals.
Come January, this will be your yin to Mercantile's yang—on this side, instead of wine and ice cream, Kris Morningstar will bring you hearty, inventive grub like
Duck Fat Yorkshire Pudding
,
Market Oysters With Beer Jelly
, and
Bone Marrow-Crusted Striped Bass
. And for dessert:
Chocolate Terrine
with black tea, shortbread and blood orange.
Of course, that all comes further on in January, when the place is actually open. For the NYE party, it's just the open bar. And actually, since the owner also runs the attached Mercantile (and Bowery, and Delancey, and the
Mission Cantina
)...
We don't think the neighbors will mind.