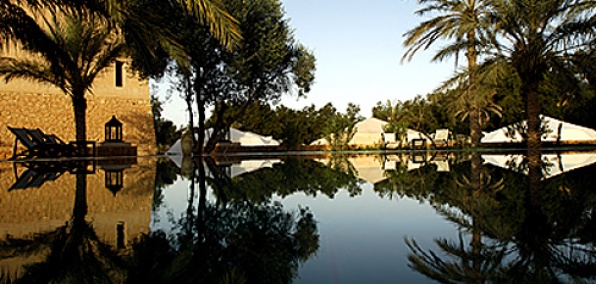 It's good to be the king.

And while we don't know of any vacant thrones at the moment, there are still a few spots in the world where you can live it up like royalty—provided you don't mind dealing with a few camels.

Welcome to Pansea Ksar Ghilane, a Saharan oasis that lets you experience the desert the way the Bedouin sheikhs did—in really nice tents—open now.

In short, it's a proudly pre-modern paradise with no computers, no television and no phone service. (We hear their WiFi's spotty anyway.) Instead, you'll swap electronic helpers for a ridiculously large complement of valets, who will stoke your poolside hookah and personally tend to your stock of camels. (To be clear: that's provided.) And when night comes, you'll bed down in an actual tent—even if it's one with a king-size bed, an in-suite shower and air-conditioning. Ah, the great outdoors…

Getting there is no small feat—it'll take three hours in a 4x4 from the nearest town—but that'll just give you time to appreciate the endless rolling dunes. The spot started off as a Roman outpost, and you can still tour some nearby ancient forts on camelback. There's even a hot springs called Atn Rath, where your kingly excursions can extend to the pre-electric version of hot tubbing.

You should be able to smuggle a loofah past customs.