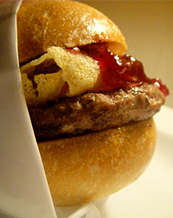 When you bite into a juicy burger, you can practically feel the power chords blowing your hair back.
Good news: your heavy-metal-themed burger paradise on wheels is here.
The Grill 'Em All Truck
is set to start rolling next week.
Forever redefining the word "hardcore," this truck will entice hordes of burger groupies with specialties like the
Blue Cheer
, with cranberry gastrique, a Maytag Blue spread and Munchos chips. (To be clear: the chips are inside the bun here.) Meanwhile, the
Waste 'Em All
piles on smoked cheddar, marinated Anaheim chiles and butter beer-braised onions.
And then there's the anthemic
Molly Hatchet
, topped with bacon and a maple syrup drizzle—and then drenched in seared fennel sausage gravy. If that's somehow not enough calories, you can also get some truffle-oil fries…or some cheddar- and jack-filled tater tots.
As for the truck's name…well, that's from Metallica's 1983 debut album,
Kill 'Em All
.
You always knew they were singing about burgers.