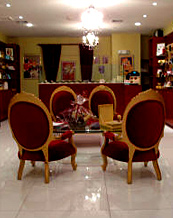 Transgressions.
They happen to the best of us.
And while some activities—cough, Schmiger Schmoods—are unforgivable, most things can be solved with chocolate.
Preferably French chocolate, handcrafted, with spices from India.
Introducing
Mister Ganache
, your new gourmet chocolate shop/relationship safety net in Mary Brickell Village, now open.
If shopping at Godiva is the equivalent of buying lingerie at Victoria's Secret, think of this place as the La Perla of chocolate stores. The boutique specializes in the confections of master chocolatier Eric Girerd, a man who's been honing his craft at his cocoa studio in Paris for 30 years. (You should know, for example, that he's not afraid to inject his square truffles with curry, wasabi, ginger or Vietnamese mint.)
Stepping in, the place feels less Willy Wonka outlet store, more fine cigar shop: plenty of dark wood, crystal chandeliers and soft velvet chairs for cushy chocolate sampling.
Depending on the degree of your misstep, we suggest a large box filled with half a dozen champagne truffles (made with Veuve Clicquot), a few
Mon Petit Jardins
infused with basil and a couple
Evasions
, made with fresh ginger and strawberries.
Also keep in mind: the chocolate is best eaten within two weeks of its creation, so get your holiday orders in now.
A lot can happen in two weeks.