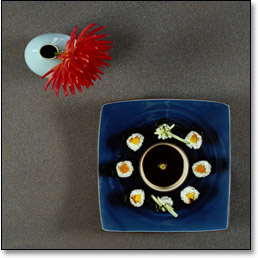 Most women appreciate good sushi.
Most women also appreciate a man who knows how to use his hands.
Which is why the next time you really need to impress, skip the reservations. Lucky for you, the latest trend in at-home cooking takes little effort, but yields some guaranteed impressive results.
If only the rest of the relationship could be this easy.
Below, we present you UD's crash course in home sushi making.
GET SCHOOLED
:
Sushi Samba's master sushi chef Koji Kagawa will school you on how to make sushi rolls, tempura, suzuki, sashimi, and hako, all in a two hour session. Apart from getting to eat what you make, each course comes with a round of sake (because only amateurs roll seaweed sober)...and a 5:1 girl-to-guy ratio.
Sushi Samba
, 87 7th Ave, 212-691-7885; April 10, April 24, May 8, 7-9pm, $70 per person

GET TOOLS
:
Korin Japanese Trading Owner Saori Kawano travels to Japan, China and Thailand to pick utensils for her clients Nobu, Morimoto and Danny Meyer. Fortunately, you just have to head downtown to the store's Warren Street showroom. Ask for Joanna. She'll help make sure you avoid sushi faux pas like clashing hand roll stands. Trust us, your girl will notice.
Korin Japanese Trading
, 57 Warren, 212-587-7021

GET FISH:
Local Asian convenience marts Sunrise and M2M have seaweed, rice, and green tea, and bring in raw tuna, salmon, yellowtail and other fish daily. Which, if you're not fond of food poisoning (especially food poisoning your date by your own hands), is a very good thing.
Sunrise Mart (4 Stuyvesant, 212-598-3040); M2M (55 3rd Ave, 212-353-2698, 2935 Broadway, 212-280-4600
)
GET DRINKS
:
Nigori, Dianjo, Ginjo, Junmai, Shochu. Translation: all the Japanese you
need to ensure you get the proper liquid counterpart to wash down your raw fish "creations." If your food bombs, at least your sake can bomb too.
Landmark Wine and Sake
, 167 W. 23rd St, 212-242-2323
No burns, no commute, no competition. And you get to keep the gratuity.