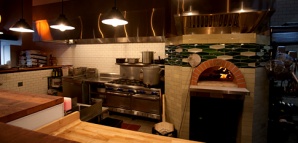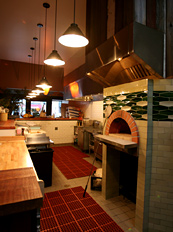 Today, let's play a quick game of word association.
We say
Christmas
, you think
presents
.
We say
Tiger
, you think...
golf
.
And when we say
black leather polish,
you think
thin crusts and mozzarella
.
Allow us to explain…
Introducing
Boot and Shoe Service
—Charlie Hallowell's much-anticipated sequel to his cult favorite Pizzaiolo—soft-opening tomorrow in Oakland's Grand Lake neighborhood.
You'll find the place inside an old shoe repair shop—the original "Boot and Shoe Service" sign still marks the spot. Sadly, you can't get your loafers buffed, but you can sample the same masterful wood-fired pie you probably sampled at Pizzaiolo (or during Charlie's tenure at Chez Panisse).
As with its older sibling, the wood-fired oven takes center stage, but you can expect a slightly more rustic, exposed-brick-and-timber vibe. And while the Boot is smaller in physical space, its pizza selection is virtually double Pizzaiolo's—with upward of 10 types (like house favorite
Rapini and Sausage
) available on any given night.
If you arrive reservation-less, head back to the marble-topped bar, stocked with wines, local brews, and a select assortment of rums, bourbons and other spirits from small-batch distilleries. You can get the full dinner menu there, too.
Pizza and bourbon—the best pairing since pizza and shoe polish.