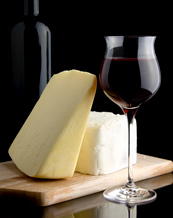 In just a few short days, your culinary globe-trotting has taken you from
Japan
to
Vietnam
to
Mexico
to
Korea (sort of)
.
And now, prepare yourself. Because you're about to submit to the wonders of…Wisconsin.
That's where
Hook's 15-Year-Old Cheddar
was born—said to be the oldest in the country that you can actually buy—and an extremely limited stock is due to arrive this Friday at the Cheese Store of Beverly Hills.
Long known as a purveyor of prize-winning cheese, Hook's has been letting this particular batch come of age in the hills of Mineral Point, Wisconsin, since the year OJ took off in the white Bronco. The year Boyz II Men tore it up with "I'll Make Love to You." The year Dakota Fanning was born. This cheese is
old
.
Said to have a sharp but smooth flavor—not bitter or acidic—this century-bridging cheddar will be going for a whopping $75 a pound when you scoop it up in the 90210. So it works for a showstopper of a you-shouldn't-have if you unveil it at your company's holiday party—and it wouldn't be so bad to pull it out on a wine-and-cheese date, either.
Then you'll hold her tight. Baby, all through the night.