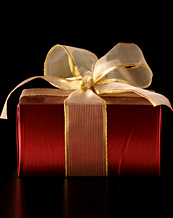 We'd like you to meet someone.
This special someone is here to help you, so don't be alarmed.
Her name is Judith, and she thinks you're about to make a huge mistake.
Now's probably a good time to mention that she's a psychic with a rare and special gift for...gifts.
Introducing
Clairvoyant
, a three-day den of cosmic energy and holiday shopping, manned by Judith, open Thursday in (where else but) Williamsburg.
You should know that you're not dealing with an amateur—Judith has been reading star charts, doing feng shui, and predicting presidential illnesses and elections for 30 years now. So you'll want to come prepared: before you even arrive at the whitewashed, gift-lined gallery space, conjure an image of your gift recipient. Or better yet, just carry a picture with you. Judith then uses your special someone's image, birth date, or just the mental vibes you're gracefully sending her way, to translate them into that perfect gift—the one cosmically destined to incite a riotous explosion of adulation in your giftee.
And the best part is your perfect, predestined gift just happens to magically be on hand at the store, prewrapped and ready for action. The actual contents of your gift, of course, will remain a mystery, but rest assured that they've been handpicked from smart clothing shops like Alter and In God We Trust, so quality should be top-notch.
And then there's the matter of price: gifts range from $5 to $150, but the exact number is out of your hands as Judith already used her mystic powers to pinpoint your budget.
Dionne Warwick was never this useful.