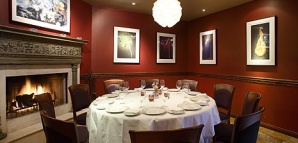 It used to be the words "wild Scottish game" meant 18 holes at Riviera and an extra cocktail in the clubhouse.

Not anymore. Presenting the city's only wild Scottish game menu, soon to debut at Mélisse. (You'll want to make your reservations now.) 

In October, hunting season opens for what chef Josiah Citrin exclaims are the best game meats in the world: Scottish pigeon, hare, partridge, pheasant and grouse (quite a fearsome fivesome). With the spoils of this year's season in hand, Citrin has applied his classic California-French technique to a hearty Autumn menu loaded with rare meats fit for the last king of Scotland. Try the Scottish Partridge and Foie Gras Dodine or the Wild Scottish Hare with Red Torpedo Onions. Or go for the Roast Grouse with Wild Mushrooms, Foie Gras Parfait, Creamed Spinach and Burnt Bread Sauce (our favorite).  

If you come with a date, make sure she's not a PETA activist and situate yourself in the traditional dining room. The real feasts, however, take place in the two private rooms. We recommend the Burgundy Room (pictured), where up to 15 of your closest carnivorous friends can bask in the glow of the marble fireplace and crimson walls as you consume our friends from the great outdoors.

Don't hate the player or the game.