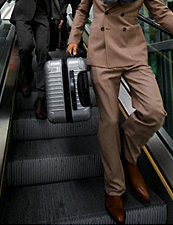 Today, we're going to make a bold prediction: within the next month, you're going to be stuck in an airport.
An even bolder prediction: you're going to be tense, confused and uncomfortable.
We can help. No, we can't guarantee hot tubs in all terminals (we're working on it). But we can introduce you to an insider who has logged thousands of miles just to tell you about that secret spa in O'Hare…
Introducing
GateGuru
, an app that serves as your insiders' guide to America's airports, available today.
Think of it as the answer for the next time you're in the airport, you've got a couple hours to kill, and you're wondering where you can get some great dumplings. Or you're looking at the dumplings, but really want fries. Or you're running late, and you need to find the most efficient route between the security line, the duty free and your plane.
The app uses GPS to recognize which domestic airport you're sitting in, and then you type in what you need to survive your delay—a good beer and a decent steak, maybe a foot massage—and you'll get a list of the best and closest options.
And soon, GateGuru will add flight notification—your phone will get a quick alert if your plane's been delayed, so you can keep on talking with that traveling salesman you met at the bar.
And by "traveling salesman," we mean "steak-loving masseuse."