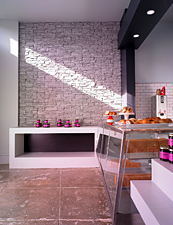 It's no top 10 food trend, but doughnuts and Chinese food seem to be a successful combo on many a street corner in the city.
So it makes sense that brioche and bento boxes would be the next auspicious culinary mash up.
Introducing
Sandbox Bakery
, the latest sliver of a corner spot bringing together the best of a Japanese deli and French bakery, opening Monday in Bernal Heights.
Brought to you by ex-Slanted Door pastry chef Mutsumi Takehara (who also baked at La Farine and Chez Panisse), Sandbox brings an East meets West, morning-to-afternoon, bakery-and-deli lineup, complete with Ritual Roasters and De La Paz coffee that's extracted through a cone-shaped single drip filter—the way they do it in Japan.
Once a motorcycle repair shop, this crisp take-out counter in front of the sizable working kitchen has a vague likening to Mt. Fuji, with a flinty stone wall and gleaming white subway tiles. And from the crack of dawn, the fresh-baked aromas of buttery chocolate croissants and Swiss dill biscuits wafting through the neighborhood will lure you to the automatic sliding-glass doors at the corner of Cortland and Gates.
In case French pastries get you in the mood for a little Japanese street food (when don't they?), the
Yuzu-Sage Tart
and the deli-style
Teriyaki Chicken Rice Burger
(that's two pieces of griddled sticky rice instead of a traditional bun) will be yours for the taking.
As we like to say,
arigato-merci
.