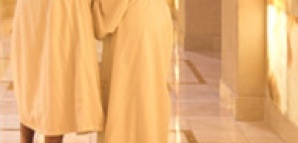 You've always had a knack for spotting revolutionary concepts. (Remember how you just knew the computer was going to take off.)

Now there's a website that's prepared to revolutionize the way you make appointments (sexy, right?). Introducing: LifeBooker.com, officially launching today.

LifeBooker aims to be your OpenTable-esque source for everything except reserving tables at the Waverly—but for now it's focusing on health and spa sessions. (Think of it as your massage secretary.) They've got more than 30 services available for bookings every 15 minutes in spas all over Manhattan (including favorites like Great Jones Spa), with treatments ranging from the more pedestrian (back massage, reflexology) to the more meticulous (eyebrow shaping, eyelash tinting...basically everything she put on your to-do list).

Reserving is simple: Select a service, day, time and neighborhood, and suddenly you'll be faced with multiple options for your microderm at 2pm in Nolita. There are user ratings to guide your choice, and for massages, you can even designate whether you'd like a male or female masseuse (not that you care...).

Of course, you don't give yourself the name LifeBooker without grand aspirations. LifeBooker plans to offer bookings for everything from dog walkers and personal trainers to private villas and tables at clubs. For now though, you'll have to stick to Shiatsus and frosted lashes.

Guess that's life.