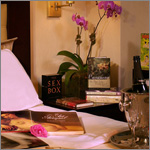 Spring is officially underway, which means cleaning is a must if for no other reason than to prepare your place for the ladies. But with interest rates rising faster than the temperature and your mortage's fixed rate expiring, you may not have an apartment to clean anymore (it's all fun and games until the Federal Reserve hates on your game with the ladies).
Once again UD has anticipated your problems and is prepared to suggest some alternative arrangements—having scoured all your lodging options in the city, we are pleased to present you with the
5 sexiest hotel rooms in the city for getting it on
.
THE EROTIC LITERATURE ROOM
Hotel
:
Library Hotel
, 299 Madison Ave, 212-983-4500
Details:
This room may be a tiny little box but it's packed with strawberries, whipped cream, edible honey dust (for when the edible panties just aren't enough), champagne, a tantric massage video and a one pound box of Godiva Gold Ballotin...there is a high likelihood you'll be ill afterward, but it may be worth the pain.
Damage
: $650/night
ROYALTON LOFT SUITE
Hotel: Royalton Hotel
, 44 W. 44th St, 212-869-4400
Details
: This room breeds rampant randiness with its recessed king-sized bed with 8-foot-tall mahogany headboard, wrap-around banquettes, a fully stocked wet bar, and a roaring fire in the working fireplace. Add the 5-foot-deep round soaking tub and you may be too spent to ever check out.
Damage
: $379/night
DUPLEX PENTHOUSE SUITE
Hotel
:
Hotel Gansevoort
, 18 9th Ave, 212-206-6700
Details
: The Jacuzzi for two, mohair chairs and mink throws should inspire some animal urges, which you can satisfy with the $40 "Mile High Kit" in the mini-bar, which includes a feather tickler, personal "massager" and three condoms (overachievers can order more from room service). A trip down to the
G Spa
is all you need to finish this night off.

Damage
: $5,000/night
SECRET CHOCOLATE SUITE
Hotel
: Chocolate Secret Suite (address provided upon reservation)
Details
: If a certain amount of discretion is required, try the private suites at an unpublished SoHo location—enjoy a rain shower featuring backlit colored glass panels, in-suite cocktail service, a full-scale kitchen with Bosch appliances, and chauffeured Mercedes S-Class service (because getting it on in an E class is so gauche).

Damage
: $2,500/night
PRESIDENTIAL SUITE
Hotel
:
Mandarin Hotel
, 80 Columbus Circle, 212-805-8800
Details
: With this much space, this is the place to be if you're getting busy with a large (and really rich) group of women. Hook it up surrounded by wall-to-wall marble and panoramic views of Central Park and the Hudson River—we suggest trying to find a creative way to incorporate the 62-inch plasma in the master bath and the Steinway baby grand piano.

Damage
: $14,000/night