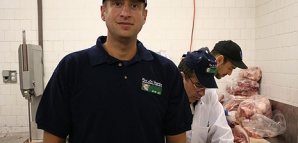 Sometimes you have to go straight to the horse's mouth. With debates raging over who has the city's best burger, steak, pork chop and veal cut—not to mention where to get a good lamb tongue—we sat down with the undisputed meat prince of New York, Pat LaFrieda, whose LaFrieda Wholesale Meats in the MPD supplies more than 400 restaurants, including Manhattan's most celebrated bistros. Taking a break during his midnight shift at the factory, LaFrieda had much to say about your next piece of meat.

UD: Do you ever get scared working the night shift at a meat factory?
PL: Now, no. Pre-Giuliani, yes—we got robbed a couple times. They tried to highjack the truck once. It's a completely new area now. It went from trucks and transvestites to the Olsen twins and Eva Mendes.

UD: How long have you lived in New York?
PL: My grandfather started the business here. We've been here long enough now that they've changed the street to our name. This is actually the corner of Washington and Pat LaFrieda Lane.

UD: What are your favorite things to do in NYC?
PL: Eat.

UD: Are you more of a cook-in or go-out kind of guy?
PL: Both. If I'm at home, I'd cook a skirt steak or short ribs. Or some pasta, 'cause I'm Italian.

UD: So, where do you eat when you go out?
PL: My go-tos are probably City Hall in Tribeca, Babbo, Del Posto and the Harrison or the Red Cat.

UD: If you had to name one, what would be your favorite?
PL: Del Posto. The service is amazing.

UD: Let's get to the meat of it (pun intended). What meat are you ordering right now?
PL: If a restaurant has Colorado lamb, that's what I'll order.

UD: Sounds delicious. Where do you think it's prepared best?
PL: Il Mulino. Best lamb rack in New York.

UD: What about steak?
PL: City Hall Restaurant probably has the best.

UD: Now, can you please tell us who you think has the best burger?
PL: If I wanted a great burger I'd go to the Spotted Pig.

UD: What is the most unusual meat dish you've tasted?
PL: Probably the lamb tongue with one-minute egg over it was the oddest but most delicious appetizer I've ever eaten—it's at Babbo. Lamb's tongue isn't something that most people could find in a store, or think to eat, but it's amazing. Also, the "veal fries" at Maremma. Those are the veal testicles...I'm not a big fan.

UD: What's an unusual meat that you would recommend right now?
PL: Lamb sweetbreads—you'll hardly ever find those. Del Posto and Raoul's in the Village have them. Veal cheeks are also huge right now—huge! Veal is in a national shortage, but we've still got some. You can get veal cheeks at Tredici or Felidia right now. You won't find them anywhere else.

UD: Where have you had your worst meat experience?
PL: Outback Steakhouse.

UD: We've all got one, but tell us your craziest meat story?
PL: Well, as Mario Batali's career was just taking off, he called me one Friday afternoon and said, "Pat, I need a veal breast, I'm going on television tonight." I told him, "Mario, it's Friday afternoon, we're done, there's no more veal breast." But he insisted, so I got into a cab and drove around until I finally found him one—I ran through the Village holding a veal breast under my arm, but I got him a great one and it turned out great. It was the launch of his career.

UD: You supply meat to some of the best restaurants in New York. Who prepares your meat the best?
PL: I'll list four. April Bloomfield at the Spotted Pig, Henri Meer at City Hall, Marc Ladner at Del Posto, and Jim Bradley at the Harrison and the Red Cat.

UD: Best place outside of NY to get meat?
PL: It's difficult. New York is the last stronghold for good products, especially meat. So believe it or not, if you went out to eat in Colorado, you'd probably be eating Australian and New Zealand lamb, because they're selling all of their expensive, beautiful, sweet Colorado lamb to New York. But there's a new Italian restaurant called Il Gabbiano that Gino Masci is opening up in Miami this month, and it'll probably be Florida's best restaurant.

UD: Are you a member of any meat clubs or secret meat societies that we should know about?
PL: No, there's no club...Once a year we have a big dinner at the Pegasus racetrack. One thousand people who hate each other, really despise each other, smile at each other and shake each other's hands. That's one night everybody gets together.

UD: Would you ever date a vegetarian?
PL: I don't have a problem with it but I think my mom turned vegetarian just to spite my dad after they divorced.