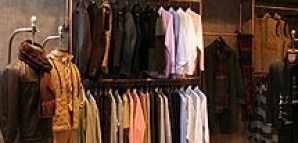 And so now we turn to your walk-in closet.

It's good, don't get us wrong, but it could be better. More refined-yet-rugged. More individual-yet-classic. More...John-yet-Bartlett.

Yes, the rumors are true. Designer John Bartlett, older and wiser from a fashion sabbatical in Thailand, is ready to further your wardrobe with pragmatic pieces from his first store: John Bartlett, opening Saturday in the West Village. As we bring you a first peek inside the cozy shop, which Bartlett calls "anti-slick, anti-Madison Avenue," here's what you can expect:

Aprons. You'll be greeted by Bartlett and his associates wearing floor-length canvas butcher aprons—the Ohio native's way of making you feel like you've stepped into an upscale general store.

Tough-guy flair. The silk ties have stripes designed like barbed wire, the khakis are made of heavy-but-breathable moleskin, and the earth-colored T-shirts display images of farm tools (because nothing quite captures rustic realness like a plow).

Branding. The leather patch of your jeans will be heat-branded with a John Bartlett three-legged-dog logo at checkout, making you feel a little like prized cattle, for a lot less pain.

Plus, you'll find non-clothing items like rare photography books, brash ceramics (of fists and bull's heads) and candles with scents of bark, tobacco and fireplace.

So your closet won't just look better, it'll smell better too.