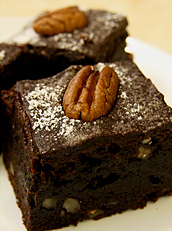 One of these days it's going to happen.
You'll be sitting at a stoplight, minding your own business, and you'll realize that you're totally surrounded by nothing but idling food trucks.
Which may not be a bad thing at all, as long as one of them has dessert—introducing
The Sweets Truck
, commencing with its inaugural secret stops as of now.
Rather than just cooking a few questionable specialties over and over, this truck has banded with some of the city's best bakeries and purveyors to round up a constantly changing mix of sweet stuff for you to chase down. (It's the
A-Team
of LA desserts.)
One day you might get a
PB&J Sandwich Crispy Treat
from Milk & Krunchies, a
Ginger Molasses Cookie Sandwich
from Cookie Casa, and some truffles from Beverly Hills' alluring Madame Chocolat. Another day, maybe a
Reese's Peanut Butter
Chocolate Chip Brownie
and some indie candy bars like Zzang's
What the Fudge?
(candy bars have gotten so corporate, man).
But they'll always have Jones Coffee, and they'll always be
trackable
. Except for right now, when their top-secret dry runs remain unannounced.
At least the hunt will burn off some calories…