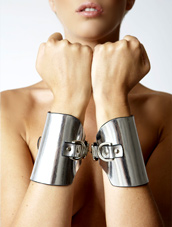 Picture a place.
Not an ordinary place: a fanciful Shangri-la of erotic delights, filled with magical serums and secret doors hidden behind bookcases.
A place that has a dressing room. That doubles as a confessional booth. With easy access to bondage gear and stuffed pheasants.
Now take this Xanadu of earthly pleasures, place it on an unsuspecting street in Nolita, and you've got
Coco de Mer
: a tastefully risqué British lingerie and sex shop, open this Friday.
Coco's warm, dark-hued entryway, with shelves stocked with lotions, potions and perfumes, might have you thinking you wandered into an antique pharmacy—until you notice chai tea–flavored massage oils, feathered ticklers and a $15K gold-plated vibrator.
But dig a little deeper and you'll uncover a library of rare sex books, a curious collection of vintage sex toys dating back hundreds of years, even patterned wallpaper that's a
Where's Waldo
of hidden erotica. The whole effect has a refined English charm appealing to the type of pleasure-seeker who enjoys a romp in the hay after taking high tea.
And when the planned 24-hour sexy-things delivery service kicks in, you'll never be without a whip made of human hair. (Tip: spring for the rare redhead model.) Perfect for when, come February, the velvet-curtained salon in the back will turn into a classroom for instructional sex lessons.
Hint:
How to Eat a Peach
has nothing to do with the greenmarket.