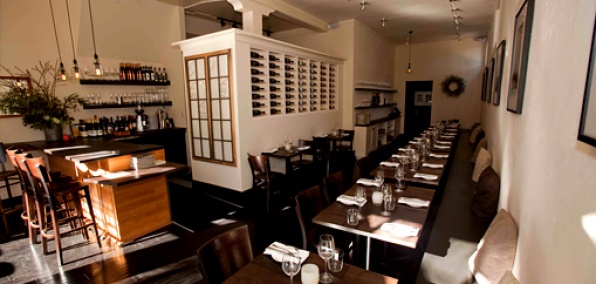 Chances are you had a bit of family time over the weekend—maybe a bit too much.
So the last place on earth you probably want to go right now is grandma's place. And yet, that's exactly where we're taking you.
Don't worry: it's someone else's grandma. And she brought booze…
Introducing Frances, a new corner eatery serving up French and Mediterranean cuisine—not to mention some unusual takes on wine—opening tomorrow in the Castro.
Look, we're not insulting your grandmother—we're just saying that this is another place to get a good, hearty meal, only the chef won't ask prying questions about your date. (Fifth Floor vet Melissa Perello did, however, name the joint after her own nana.)
Start by grabbing a few stools at the walnut bar and ordering a round of Market Shots—basically, three-ounce glasses of spiked juice (like the Satsuma mandarin and Rangpur lime number topped with Madeira). After that, try a chaser of the Central Coast house grenache blanc, one of two wines available on tap, and blended especially for Frances. Follow that with a few bites of Lamb/Pork Albondigas (Spanish meatballs) or the doughnut-like Bacon Beignet.
For dinner, nestle into a banquette under the wall of wine, where you can watch the open kitchen prepare you meals like the Ling Cod Crusted With Boccalone Lardo.
Consider it performance art.