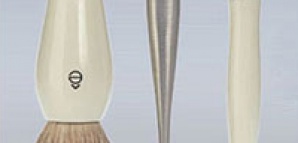 Your morning shower has been whittled down to eight minutes, your lunch break is on work-related hiatus, and those nightly pushups are a distant memory. As daily rituals go, the morning shave is pretty much the last one on the table.
Just another reason to take the time and do it right. You'd be amazed what an extra 90 seconds can do.
The shaving line that's been racking up awards from
Men's Health
and
FHM
(before the fall...so sad) has finally set up shop in Manhattan. With shaving soap from Marseilles, shaving cream from England and weighted razor handles handmade in Manhattan to give you a steadier hand,
eShave
pulls together all the raw materials for a world-class shave. (The Norwegian aftershave didn't make it. It was a little too musk ox-y.)
For those of you who cut out on grooming class, here's the master plan:
pre-shave oil
for a little preparatory greasing,
shaving cream
so dense that a two-ounce can will last you half the year, a
badger-hair brush
to keep your cheeks badger-soft, a
five-blade razor
to keep you well-shorn and an
alum block
to close those would-be gushers.
The boutique has even got a pink package for the ladies. In case you think a gift might land you a little "aftershave balm."