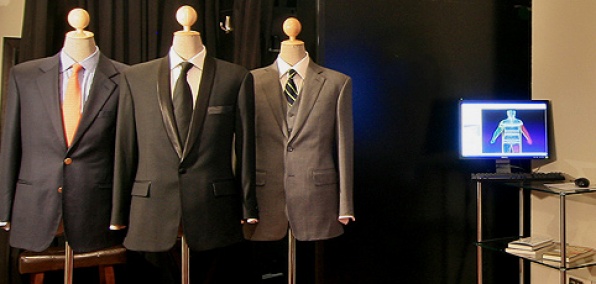 We've seen the future, and the future is run by robots.

Calmly remove your clothes, step into the black box and look into the white light.

That's all they ask. In return, you will receive a suit hand-cut to the exact measurements of your body. They are Alton Lane. And they want their robot to make you a custom suit. For under 500 bucks. Proceed with cautious jubilation, and remain on high alert at all times.

Aiming to mix the twin arts of hand tailoring and futuristic black box computing, Alton Lane is a contradiction wrapped inside a bespoke suit shop. Find your way to their 12th-floor Flatiron suite, and everything will look normal on the surface—books and books of fabric swatches, handsome suits on mannequins, plush couches.

And then you notice it in the corner: a black photo booth (with technology developed for airport security) that looks like a prop from the set of Bill and Ted's Excellent Men's Clothing Shop. Politely accept the offered glass of bourbon, step into the booth, remove your duds down to your unmentionables and hit the button. When you emerge, your digital avatar will be staring you in the face, patiently waiting to be sent to one of Alton Lane's overseas tailors.

From there, all you'll need to do is work with the Alton Lane gents to decide on your suiting choices (lapel style, number of buttons, type of fabric, etc.), so that their tailors can get to work hand-cutting your garment to the suit robot's exacting measurements. Three weeks later you'll have your suit.

And an extremely intimate relationship with a robot.