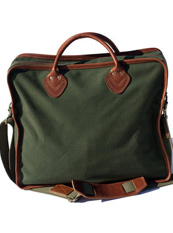 For the past couple years, you've turned to one trusted voice for all things cool, no-nonsense and all-American: Bruce Springsteen.
But when the Boss couldn't return your calls, you went online to the blog A Continuous Lean, where you spent more hours looking at
old-school photos
from inside the Pentagon and other bits of vintage Americana than you ever thought possible.
So we're pleased to announce that ACL is turning its attention to a higher purpose: opening a store.
Welcome to
ACL & Co.
, the new online shop from the America-loving blogger behind A Continuous Lean, open now.
Consider it the online general store the Internet (and you) so deserved—a place to find limited-edition 10-pocket cargo pants, smart collaborations on shirts with the likes of Steven Alan and Gant, and (why not) maybe a little stationery, nearly all handmade in the USA.
So you'll find canvas-lined laptop bags made from herringbone tweed, rather than cheap-looking foam—basically, what Paul Newman would've carried his laptop in if he'd given up acting to become a traveling salesman. Or the briefcase (made with New Jersey's Billykirk), based on WWII soldiers' map bags and perfect for keeping your papers safe in case the Canadians finally catch us napping and invade.
More is on the way—handsome shirts for when you're off duty, and a line of shoes and boots ideal for hunting either prey that flies or the more terrestrial kind of bird.
We don't mean penguins.